Admissions
To apply for a place at Lewis Girls' School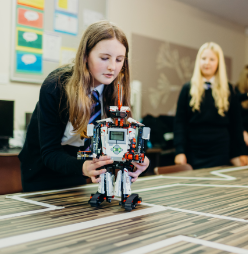 Please follow this link or telephone Caerphilly Local Authority on 01443 864870 : https://www.caerphilly.gov.uk/Services/Schools-and-learning/Admissions-and-appeals/Primary-and-secondary-school-admissions
Parents / carers of Y6 students wishing to apply to Lewis Girls' School from any Caerphilly County Primary School need to place us as first choice on the LA admission form.
Applications from parents / carers for students in other authorities can be made by contacting the LA Admissions department using the telephone details above or applying online using the link above.
If you have any queries regarding admissions, please contact Lewis Girls' School on 01443 813168.
Once you have secured a place for your child at the school, they will be included in all visits arranged for year 6 students prior to starting in September.
If you wish for your daughter to transfer to Lewis Girls' School in-year, please contact Caerphilly Local Authority on 01443 864870.
Visits
Please contact Mrs Jo Evans, Assistant Headteacher (evansj13@lewisgirlscaerphilly.org) if you would like to arrange a visit to the school.